With an elevation of 3000 ft. surrounded by 6000 ft. mountains "The Hillbilly" is home to wonderful cool summers surrounded by stunning mountain views. The perfect location to explore the best of natures spectacular scenery while staying in a vintage appalacian town.
Blue Ridge Parkway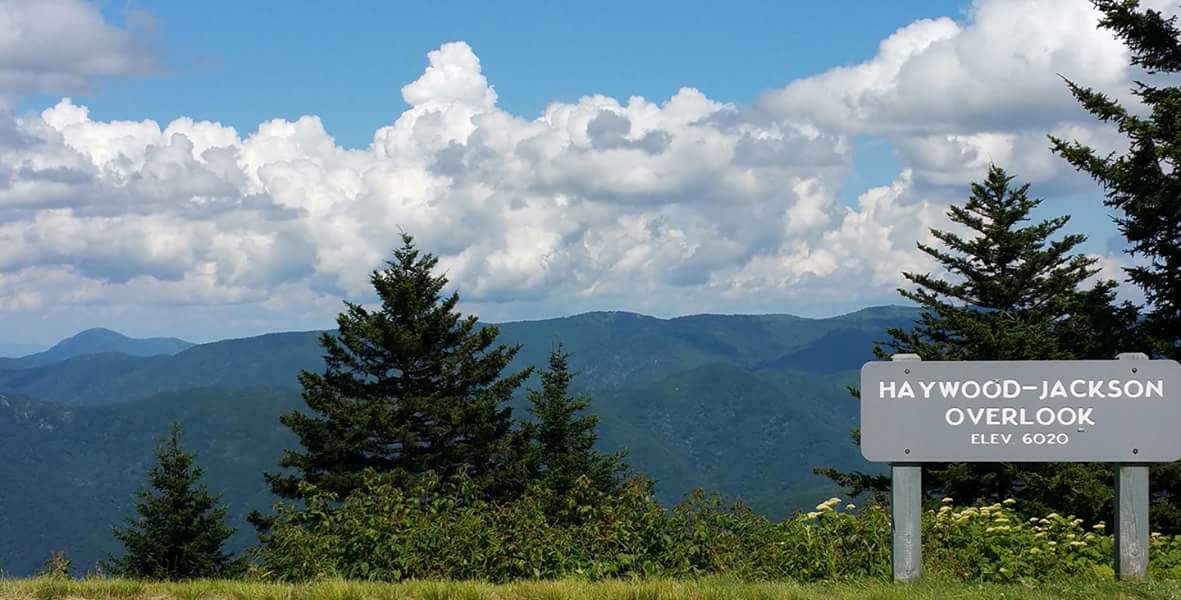 With the Blue Ridge Parkway and Smoky Mountain National Park at our back door you motor tour the 1st. and 3rd. most popular National Park in the U.S.A.. Breathtaking overlooks, hiking trails and cascading waterfalls you will leave with lifetime memories.
Cataloochee Valley

Another favorite is Cataloochee Valley, an early settlement now part of The Great Smoky Mountains National Park. Preserved are many of the original structures of the once thriving communtiy. Today it is home to only nature's wildlife including bear, turkey, deer and a large elk population.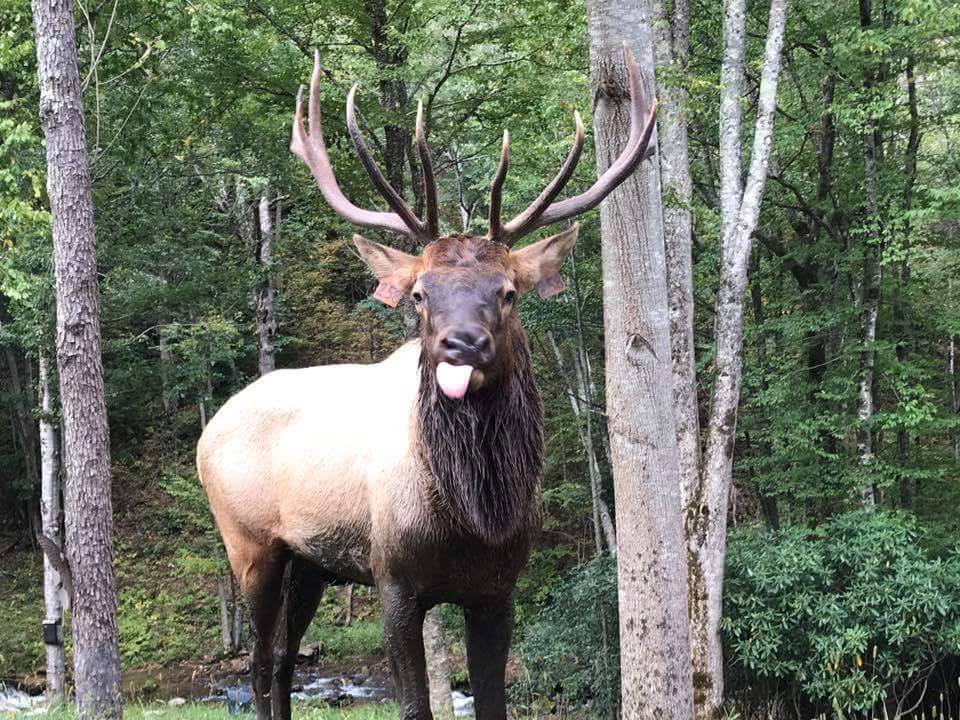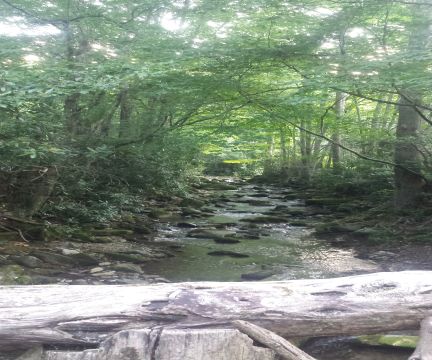 Folks just call us "The HillBilly" but don't let that fool ya - cause we got all them new fangled conveniences like:
FULL HOOK-UPS: runnin' water-plumin' letric & full cable fer yer TV
IN-DOOR LAUNDRY ROOM: them automatic washtubs and dryin' machines
BATH HOUSE: sinks, turlets and showers, nutin' fancy but they's shore clean
CREEKSIDE SITES: now ain't that what ya come here fer? These's about as nice as they come
SHADE: it's been said we's the shadiest and coolest campground in these here parts
SECURITY: we like it so much we live here all year
SPECIAL RATES: for weekly and monthly so's you can stay as long as ya want
RESERVATIONS WELCOME: so we can save a spot fer ya
CLEAN: we're right proud of the comments we hear from our campers
CONVENIENT: why, you can walk to pernt near anyplace, even got the Maggie Country Store right up front
One Thing you'll probably enjoy the most will be the fellow campers we've been blessed with for our past twenty y
Downtown Maggie Valley Y'all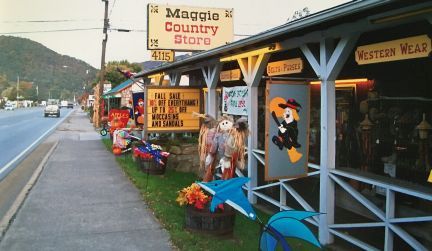 Back here in downtown Maggie, you'll find unique craft shop, restaurant, golfing, Bluegrass, and a world class Motorcycle Museum, along with the rich mountain heritage so unique to our area. With historic Waynesville, Cherokee, Gatlinburg, and Dollywood a short drive away you'll find Maggie Valley to be a perfect desitation to venture out.

A lot of folks camp at "The HillBilly" just to relax, have a campfire by the creek, enjoy old friends, or make new ones. Then sometimes it's just nice to get away from it all, but if you're lookin' for somethin' more to do you can:
WALK TO:
Ghost Town

Shopping

Restaurants

Flea Market


Craft Shows


Library

Festival Grounds


Groceries

Wheels Through Time Motorcycle Museum

DRIVE TO:
(with-in 30 Minutes)
Golfing

Mini-Golf

Gem Mines

Santa's Land

Hiking Trails

Tubbing

Cherokee Bingo

Cherokee Casino

Appalachian Trail

Horseback Riding

Blue Ridge Parkway

White Water Rafting

Cataloochee National Park

See the elk!

Cherokee Indian Reservation

Great Smokey Mountain Railroad

Great Smokey Mountain National Park
ALSO:

Maggie Valley has a lot of special doin's most all summer long. We have a Welcome Center just up the road that can fill ya in (or just ask us) so leave some extra time open.

HillBilly Creekside Campground

4115 Soco Rd.

P.O. Box 152

Maggie Valley, N.C. 28751




===========================================


Dreamy Nights beneath the Stars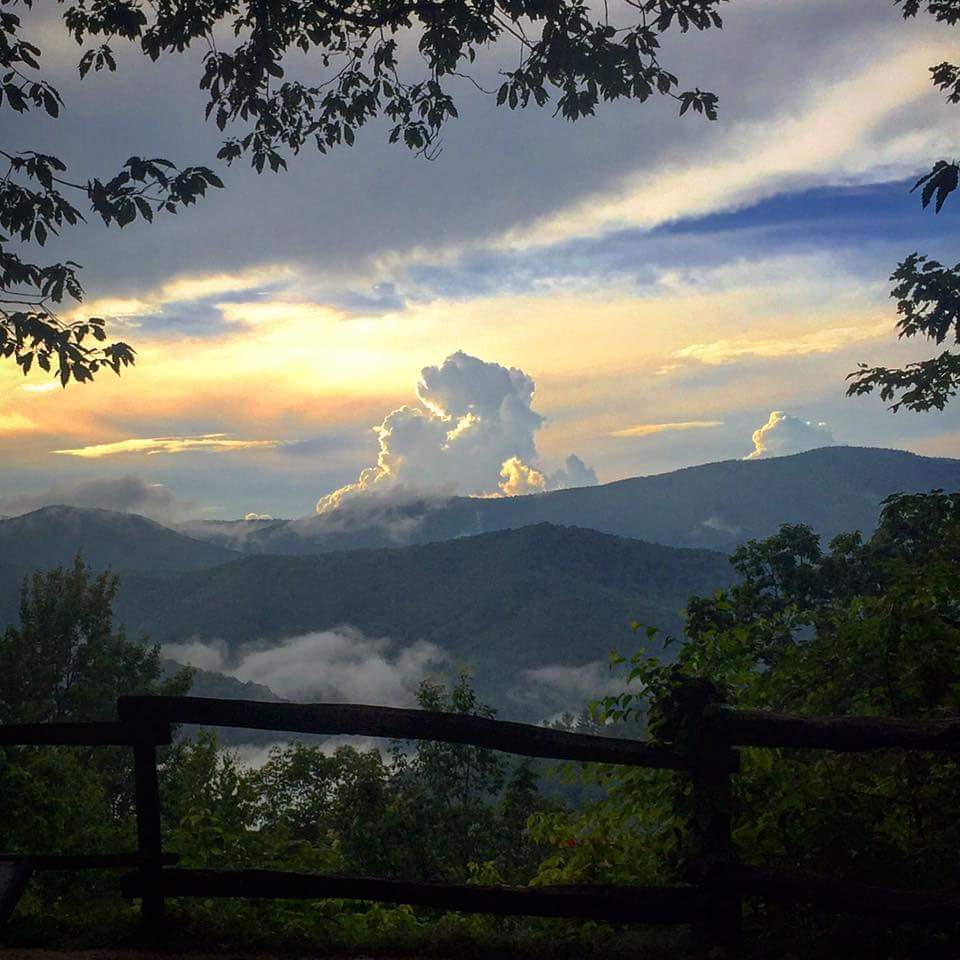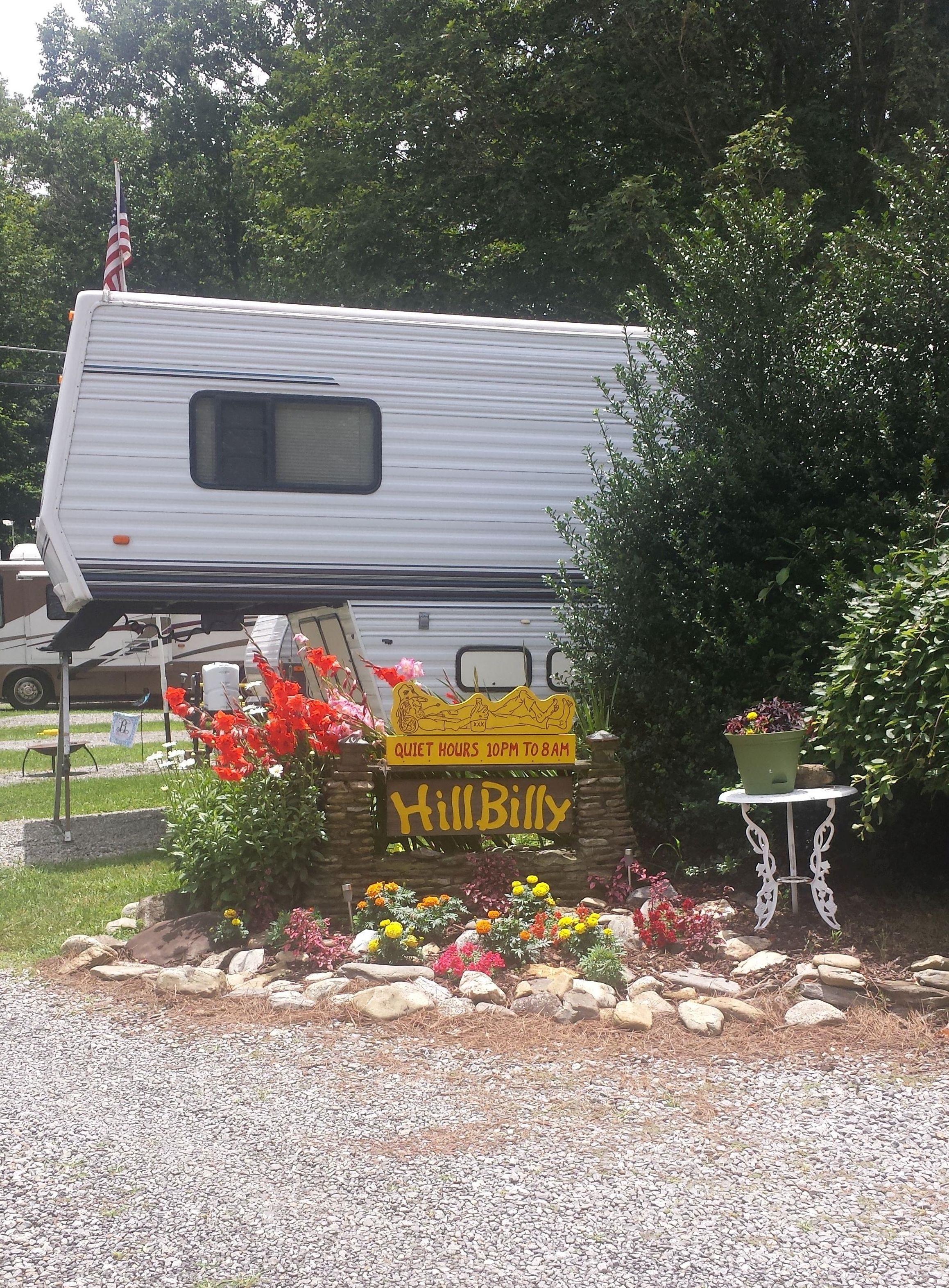 ==================================================================

Open May 1st. -Nov. 1st.
Check-in 12 Noon till 6:00 PM Only

Checkout 11:00 AM

Rates
(Based on 2 people, $2.00 for additional guests. No charge for infants)

RV SITES
# NIGHTS NON-CREEK CREEK SIDE

Daily $30.00 $36.00
* Weekly $190.00 $210.00
* Monthly $525.00 $595.00
SEASONAL Call for availability

Seasonal Campers may be left on the site during off season. No storage fee if you stay the following season.
* Rates may be prorated for additional days

Rates include: electric, water, sewer, and extended cable TV
Sorry we do not offer Tent Sites

!

PET POLICY

RV SITE: Well behaved quiet dogs are welcome, sorry no aggressive breeds.

Nice Dog Walk Across the Road

BIG RIGS

Sorry we are a quaint downtown campground and cannot accommodate larger units.

Maximun 33 foot TT & 5th wheel- 40 foot Motor Homes.

CAMPFIRES

Welcome, but bring your own elevated firepit



GETTIN' HERE FROM THAR:
Figurin' ya'll can make your way to Maggie Valley, we're right on US 19 (we call it Soco Road) Next to Campbell Creek. Easy 4 Lane Road right to our entrance, and We'll even help you back into your site.
Now Ain't that Hospitable!

====================================================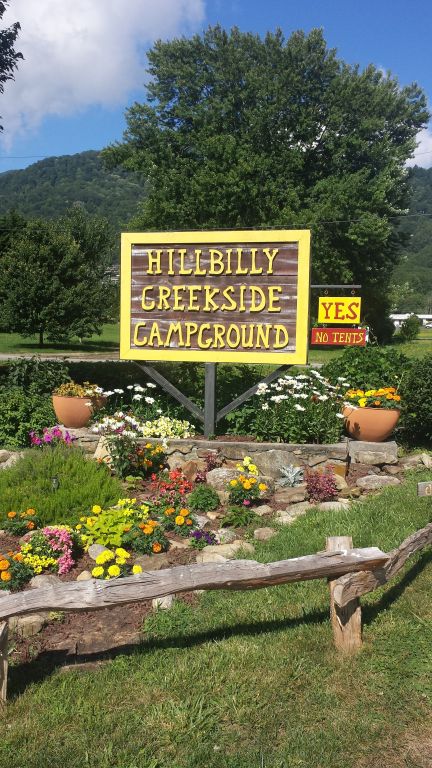 Quiet Creekside Mom n Pop Campground

Nice downtown location
We're much ablighed your takin' time visitin' us here, and we'd be proud to have you as a guest at "The HillBilly".
If ya got some questions, or want to make reservations.
Give us a call at (828) 926-3353.
Website: http://www.hillbillycampground.com