A lot of folks camp at "The HillBilly" just to relax and get away from it all, but if you're lookin' for somethin' more to do you can:
WALK TO:
Ghost Town

Shopping

Dancing

Mini-Golf

Music

Craft Shows

Restaurants

Flea Market

Antique Motorcycle/Auto Museum
DRIVE TO:
(with-in 1/2 hour)
Golfing

Mini-Golf

Gem Mines

Santa's Land

Hiking Trails

Tubbing

Cherokee Bingo

Cherokee Casino

Appalachian Trail

Horseback Riding

Blue Ridge Parkway

White Water Rafting

Cataloochee National Park

See the elk!

Cherokee Indian Reservation

Great Smokey Mountain Railroad

Great Smokey Mountain National Park
ALSO:
Maggie Valley has a lot of special doin's most all summer long. We have a Welcome Center just up the road that can fill ya in (or just ask us) so leave some extra time open.
HillBilly Creekside Campground
4115 Soco Rd.
P.O. Box 152
Maggie Valley, N.C. 28751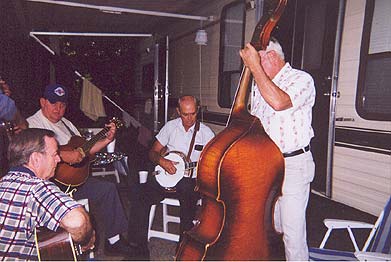 Bring your own pickin' and join in on some ole time music makin'
GETTIN' HERE FROM THAR:
Figurin' ya'll can get to Maggie Valley, we're right on US 19 (we call it Soco Road) about 1/2 mile from Ghost Town on Campbell Creek. Just look for our sign next to Maggie Country Store.
Rates:
(Based on 2 people, $2.00 for additional guests. Infants no charge)

* Tent sites: $25.00
Daily: Non-Creek $26.00
Daily: Creekside $30.00
Weekly: Non-Creek $155.00
Weekly: Creekside $175.00
4 Weeks: Non-Creek $465.00
4 Weeks: Creekside $525.00
Seasonal: Non-Creek $1850.00

All Rates include water/sewer, electric and extended cable TV service
* Tent sites do not have electric or water
Sorry, dogs are not allowed in the tenting area
"Well behaved" smaller dogs are welcome in RV sites only

We are the closest campground to Ghost Town
Y'all can just walk there!